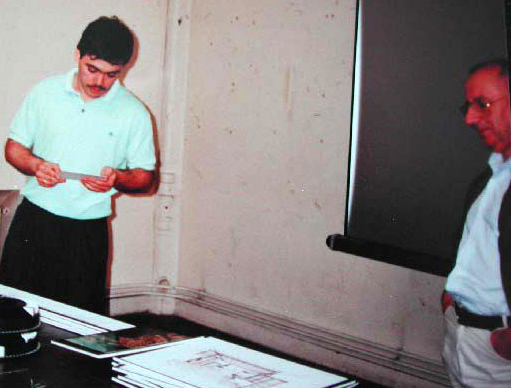 30 years.
June 27, 1989: Architect, graduated from the École Spéciale d'Architecture, under the supervision of Paul Virilio (appearing with me in this picture).
June 27, 2019: Today you see this website that illustrates to you, from some of what I have found in my archive, the marks I have left on Architecture (only a third of what I've created during my 13 years of independent practice), my different pedagogy experiences for the past 24 years, my publications, my archives, …
This is my "Happiness, gift, desire to share"*.
And the best is yet to come!
* Replica in the movie:  "Trop belle pour toi", Bertrand Blier, may 1989
30 ans.
27 juin 1989 : diplôme d'architecte de l'École Spéciale d'Architecture (DESA), avec Paul Virilio comme directeur de mémoire (sur cette photo avec moi).
27 juin 2019 : voici un site Internet avec toutes mes traces, du moins celles pour lesquelles j'ai retrouvé des archives. Avec des projets en tant qu'architecte (à peine un tiers de ce que j'ai réalisé durant mes 13 ans de pratique libérale), mes différentes pédagogies depuis 24 ans, mes publications, mes archives, …
"Bonheur, cadeau, envie de partager"*.
Et le meilleur est encore à venir !
* Réplique dans le film : "Trop belle pour toi", Bertrand Blier, mai 1989